PEAC's 7th Annual Eastern PA Inclusion Conference

REGISTRATION OPENING SOON.
Date:
Wednesday, November 7, 2018
8:30am – 5:00pm 
Thursday, November 8, 2018
8:30am – 11:45am
Location:
SugarHous
e Casino
1001 N Delaware Ave
Philadelphia, PA 19125
Directions
Keynote Speakers:
Dr. David Pitonyak & Dr. Ann Marie Licata
More Information Coming Shortly!
Call For Papers
There will be four (4), ninety (90) minute break-out sessions in each time slot throughout day one.  Please note:  Speakers will receive a registration for the two-day conference.  Honorarium is not available. For questions about the conference or the proposal submission, please e-mail Lily Yazno-Bartle, [email protected].
Download the Call for Papers by clicking HERE
Proposals are due by 12 midnight on September 14, 2018 and may be submitted electronically with a completed Speaker Packet to Lily Yazno-Bartle at [email protected].
Completed proposals will be reviewed and notifications issued by September 28, 2018.
Materials are due by Oct 1, 2018
Speaker's Packets
Are you a confirmed speaker?  Download the Speaker's Packet here:
Sponsors/Vendors
For questions or to submit completed forms, please email 
[email protected]
 or call 267-232-0570.
Highlights from
PEAC's past conferences
"EFFECTIVE INCLUSIVE PRACTICES: Build it and they will come" - 2017
PEAC hosted the 6th annual Eastern Pennsylvania Inclusion Conference on November 10-11th at Fox Rothschild Center for Law & Society of Community College of Philadelphia including many breakout sessions.  Co-sponsors included Fox Rothschild and Pennsylvania Inclusive Higher Education Consortium.
Keynote Presenter, Erik Carter, Ph.D., FAIDD, Vanderbilt University
Erik Carter, Ph.D., is Cornelius Vanderbilt Professor of Special Education at Vanderbilt University. His research and teaching focuses on evidence-based strategies for supporting access to the general curriculum and promoting valued roles in school, work, community, and congregational settings for children and adults with intellectual disability, autism, and multiple disabilities.
"Together Towards Tomorrow" - 2016
PEAC hosted the 5th annual Eastern Pennsylvania Inclusion Conference on November 6-7th at PaTTAN including many breakout sessions.  Co-sponsors were The Arc of Philadelphia, PDE, OCDEL, The Office of Child Development & Early Learning and The PEAL Center.
Keynote Presenter, Dr. Thomas Neuville
More about Dr. Neuville
40 Years Towards Inclusion in the US:
Lessons Learned and the Promise of the Future
Before there were children with disabilities in typical schools in North America, there was only hope and need. Before the creation of highly specialized plans of education, individualized instruction techniques, methods of differentiating group instruction or regulations mandating the adherence to government regulations, there were only families, children with disabilities and institutions. In many ways, the history of North America is the history of PA. Engage with Thomas Neuville as he tells the story that some recognize from the past and many understand from the present.
"Inclusion Revolution" - 2015
PEAC hosted the 4th annual Eastern Pennsylvania inclusion conference on November 6-7th at St. Joseph University.
Co-sponsors were The Arc of Philadelphia, PDE, OCDEL and The PEAL Center.
Keynote speakers include Shane Burcaw, Diane Perry and Tanya Regli.
Shane Burcaw and Sarah Burcaw Shane and Sarah Burcaw are the founders of Laughing At My Nightmare, Inc., an organization dedicated to teaching people how humor and positivity can help them overcome their challenges. Shane is an award-winning author, Emmy-winning producer, and writer of a blog with over 600,000 followers. Sarah's job is to make sure his head doesn't get too big. Together, the duo travel the country spreading the important message that positivity is powerful.
Diane Perry
Diane Perry has worked in the field of educational advocacy and family leadership as well as having served as President of Pennsylvania's Education for All Coalition (PEAC) for the past 10 years. PEAC is a partnership between families, school districts, higher education and self-advocates collaborating to ensure students receive the supports needed to be successful learners. Diane's son David, 22, received special education services and is currently exploring college, working, and volunteering. Diane is now the Eastern Region Parent Adviser for the PEAL (Parent Education & Advocacy Leadership) Center. PEAL is the Parent Training Information (PTI) center in the state of PA, providing families with training, information, and resources to assist in navigating the special education system in PA.
Tanya Regli, MSS/MLSP
Tanya Regli serves as the Executive Director of The Arc of Philadelphia. This inspirational presentation takes a brief look at the history of inclusion, the law that supports inclusion, and the inclusion resources we will hear about throughout this conference. Then we will take a moment to look at the power of inclusion and the roles each of us can take to support the movement. Her work includes working on an annual forum on secondary transition as well as the Transition Council at both the local and State level. Regli has presented on Secondary Transition throughout the region after developing and running the Secondary Transition Program with Aspira at Olney Charter High School in Philadelphia. She became involved in advocacy for children with special needs when her son was diagnosed with Autism in 2002. At that time, she founded the Special Needs Advocacy Group (SNAG) to address issues affecting children with special needs in Cheltenham and Montgomery County. Regli also co-founded and ran Viewpoints Learning Project, a 501c3 not for profit organization designed to support inclusive environments in community centers and throughout the area. Her professional career in Philadelphia has included work at Taller Puertorriqueño, Congreso de Latinos Unidos, and The Philadelphia Foundation. Since 2008, Regli worked as a Parent Advocate and continues to serve on the Board of Hispanos Unidos Para Niños Excepcionales (HUNE) Inc. Regli holds a Bachelors of Arts from Georgetown University and subsequently earned a Masters in Social Service as well as a Masters in Law and Social Policy from Bryn Mawr College.
The sessions are designed to meet the needs of parents, professionals, and self-advocates. OCDEL and PDE supported parent scholarships. 34 Sessions were presented by many local and statewide experts alongside the Parent Consultant Network and the Self Advocate Network. Over 150 attendees over the 2 days.
"We're All Better Together" - 2014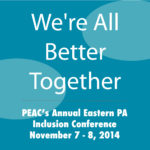 This conference was held at PaTTAN King of Prussia where 20 breakout sessions were presented over 2 days.
Keynote Presentations Included:
Together We Are Stronger
Dr. Graciela Slesaransky-Poe
This presentation will share what has been learned from creating safe, welcoming, inclusive, and affirming schools for ALL students and families. Together we are stronger.  Dr. Graciela Slesaransky-Poe is a professor and the Founding Dean of the School of Education atArcadia University. Graciela is a dear friend of PEAC and the disability community. She is the recipient of our own 2011 award: the "Patricia C. Creegan for Excellence in Inclusive Education" as a tribute to her outstanding commitment and performance on inclusive education. For most of her professional life, she has focused on learning from and with families about how to ensure that their children receive quality inclusive education. Little did she know that that work would serve as the foundation for her learning and advocacy on how to create welcoming and affirming schools for her own son, and for so many other children who are gender nonconforming or transgender.
These past years, while focusing on gender identity and expression, she saw some advances towards inclusion of some diverse groups of students. Most students with disabilities, however, are still not being seen as full members of their school communities. This realization helped me gain a renewed understanding and commitment for inclusive practices, which lead me to explore new ways of looking at disability, difference, and schools' openness to inclusion.
Diversity and Inclusion Across Environments
Dr. Marie Lewis, RN, PhD, BCEA
Discover a holistic approach to inclusion that includes preschool, school aged, post secondary education, community and disability support agencies. Look at the benefits and research as well as techniques and rubrics for functional fidelity checks with inclusion. Dr. Marie Lewis is a Neuro-Developmental Disability Case Manager (NDDCM), Education Consultant (Board Certified Education Advocate) & Behavior Specialist Consultant (BSC). She is a Clinical Consultant, trained in neurology, psychology and behavioral health. She has served as the Executive Director of the National Center for Autism Resources and Education and is the Clinical Director and on the faculty of the National Special Education Advocacy Institute, since 2008. For over fifteen years Dr. Lewis has trained educational advocates and lectured nationally for disability groups, school districts, parent support groups and continuing medical and legal education programs. She has testified before the US Department of Education and has served as a consultant to special educational law programs in multiple states. She is on the advisory boards and boards of national and regional disability related organizations and schools. Dr. Lewis has journeyed the special education maze personally with two sons who have autism and a gifted daughter who is medically challenged.
Friendship – Past, Present, and Future.
Erin Perry, Jessica Clark, and Jenna Willig. Facilitated by Marian Frattarola-Saulino
The young ladies will be discussing friendship, family, school, work, activities, socialization, and living arrangements, including:
• How and when they met. • How their relationships have grown over the years. • Where they are currently with their relationships. • Where they see their future heading. • How they deal with differences. • How they respect one another's choices whether they agree or disagree with one another.
One of the ladies is using Support Broker services which are enabling her and her family to direct her supports in ways that are meaningful to her and can include her friends in planning for her future. Marian will discuss Support Brokering and how it may help others plan for and live their lives.
Who You A.R.E. Matters!
Your Actions teach Responsibility by Example. It has been said that, no significant learning happens apart from a significant relationship. How do we build the kind of relationships with youth that foster trust, overcome barriers, and inspire success? It starts with you!
Dr. Gale K. Gorke
A dynamic speaker, trainer, and author, Gale is a veteran educator in the public school system for nearly 30 years. Specializing in both elementary and secondary levels, she has impacted the lives of hundreds of thousands of students, teachers, and administrators. In 2004 she created Kids Kan Inc., an international organization that specializes in curriculum design, staff development, activity selection, and program implementation. Her teaching style effectively models a keen awareness of adolescent development and brain-based learning principles, accommodating all students' ability levels.
A sought after consultant, Dr. Gorke is the chief curriculum specialist for KidTribe and co-authored S.T.E.A.M. activities for the NASA sponsored Space School Musical. Gale also helped to author California state guidelines for inclusion and physical activity in afterschool programming throughout the state. An expert in kinesthetic learning through team building and psycho-motor activities, she has created programs for nationally recognized youth organizations.
"Relationships and Inclusion: Understanding the Students Understanding Ourselves" - 2013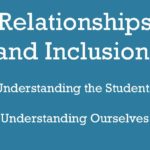 PEAC hosted the 4th annual Eastern Pennsylvania inclusion conference on November 15-16th at PATTAN King of Prussia. PEAC thanks the 
Pennsylvania Department of Education, PaTTAN, and the Office of Child Development and Early Learning 
for the financial and logistical support of this conference.  Keynote presentations included:
REALationships: REAL Expectations for a REAL Education
Dr. Cathy Taschner
Dr. Cathy Taschner has worked with teachers and administrators, to develop and implement support systems for educating students within general education settings. Cathy has been a middle and high school classroom teacher, an assistant principal, a middle school principal, and is currently an Assistant Superintendent. Cathy served on the Gaskin Advisory panel for five years. During that time she served as chair of the panel, and chair of the LRE committee within the panel. Cathy currently serves on the statewide Special Education Advisory Panel (SEAP). Dr. Taschner's work was nationally recognized when she was named Administrator of the year by the TASH organization in 2007. Dr. Taschner is well known for her passion in promoting the importance of creating "no excuses" classrooms that meet the needs of all learners. She has presented at various conferences, and is known for her enthusiastic, knowledgeable, and humorous style of presenting that inspires others to become engaged in the "real and important work of schools".
The sessions are designed to meet the needs of parents, professionals, and self-advocates. OCDEL and PDE supported parent scholarships. 34 Sessions were presented by many local and statewide experts alongside the Parent Consultant Network and the Self Advocate Network. Over 150 attendees over the 2 days.
Celebrating Friendships
Mikayla Resh and her mom (Kimberly Resh)
As the mother of a daughter with profound disabilities, I'm often known first as "Mikayla's mom." And that's more than fine by me. I'm proud to be her mom and she has introduced our family to some of the greatest folks you would ever want to meet. Mikayla is honestly the best judge of people as their true character is quickly revealed by how they treat her. And while we will share some unfortunate stories of insensitivity, we will not dwell on those. Rather we choose to celebrate the rich wonderful friendships Mikayla and our family have enjoyed, thanks to her and her inclusion in our schools and community.
Friendship-Past, Present, and Future.
Erin Perry, Jessica Clark, Gracie Houseman, and Jenna Willig.  Facilitated by Marian Frattarola-Saulino
The young ladies will be discussing how and when they met, how their relationships have grown over the years, where they are currently with their relationships and where they see their future heading. Their discussion will include the following; family, school, work, activities and socialization, and living arrangements. How they deal with differences in the above mentioned categories, and how they respect one another's choices whether they agree or disagree with one another.
Helping Students with Disabilities to Make Meaningful Connections with Others
Jerry G. Petroff, PhD
Friendships and positive social relationships are important to all of us, however, some of us find it more difficult than others to establish healthy and meaningful connections to others. Dr. Petroff will provide a theoretical framework for promoting social success and discuss approaches for parents and school staff to encourage and guide students with disabilities toward making social relationships and developing skills to establish ongoing connections to their community. The redefining of a quality social network will include an individualized approach to establishing a life that does not reflect loneliness and/or dependence. The promotion of pro-social behavior and community engagement will be discussed as the cornerstone of creating a fully integrated life.
"Inclusive Practices: It's More than Access" - 2011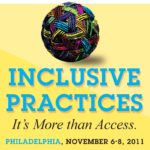 PEAC 1st Annual Inclusion Conference in eastern Pennsylvania was on  November 6 – 8, 2011. Sixty breakout session and two keynotes will highlight the theme Inclusive Practices: It's More Than Access!  Keynote presentation included:
NEW STUDENTS; NEW QUESTIONS: Supporting the Classroom Teacher in an Inclusive School 
Norman Kunc, Broadreach Training & Resources  and Emma Van der Klift, Broadreach Training & Resources
As an increasing number of students with disabilities are being included in regular classes, there is growing consensus among teachers about what supports need to be in place for inclusion to be manageable and successful. Based on personal experience and the input of classroom teachers throughout North America, Norman Kunc and Emma Van der Klift examine five areas of support which need to be present if teachers are to welcome students with disabilities into their classrooms:
• Information • Collaborative Planning • Shared Agreement on Goals and Expectations • Classroom and School Based Supports • Classroom Assistants
This session also addresses the question of fair and appropriate evaluation and briefly describes some ideas for supporting students with atypical or disruptive behavior.
Beyond Graduation and Disability
Keith Jones, President and CEO of SoulTouchin' Experiences
This event discusses how issues of gender, culture and ethnicity in America play out for youth, young adults and their families in the disability community. This session will also take a look at the barriers and challenges that are literal, as well a figurative, before and after graduation. Also, how and what role if any, do personal beliefs and/or prejudices play in interacting and serving people with disabilities.
Registration began at 12:00 noon on Sunday, November 6th. Breakout Sessions began at 1:00 PM on Sunday. The conference ended Tuesday at 1:30 PM, after a topical roundtable luncheon led by leaders in the field.